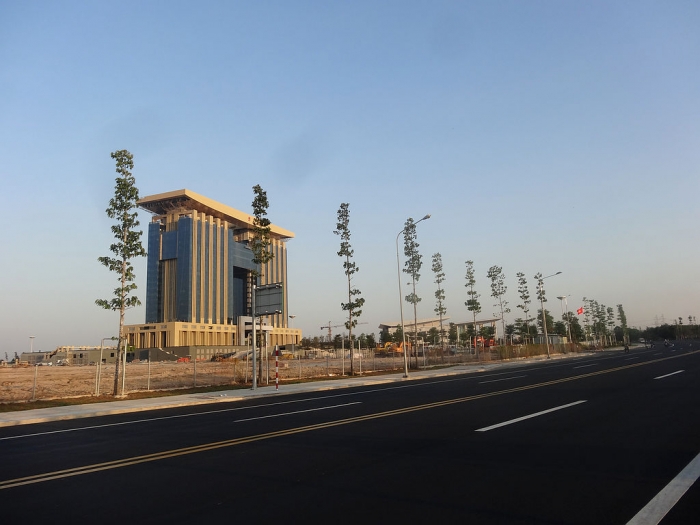 It looked like VAB(Vehicle Assembly Building) for space shuttle from the distance.

Vehicle Assembly Building (Cape Canaveral, 1965) | Structurae


Actually, this is the Integrated Political Administration Center of Binh Duong.
Planned to open 20th Feb 2014.


News - BECAMEX TOKYU
On February 20th 2014, The inauguration ceremony of Integrated Political Administration Center of Binh Duong - The Gate Building - will be celebrated at the center of Binh Duong New City Binh Duong People Committee. This project has started construction on November 2010 whereas the Gate building is a building with 23 storey including 2 storey for parking; 21 storey for office. In additional, there is also a technical storey and a heliport on roof of this building.
The detail of planned building can be obtained from the following pages.
Integrated Political - Administrative Center - Overview
According to someone's plan, Binh Duong New city will be the 2 million population's town despite current total population of Binh Duong province is 1.7 million.
If
Vietnam
will be able to continue to develop next 5 to 10 years, and new international airport will be built, then this town could be full of people as a satellite city of Ho Chi Minh city.