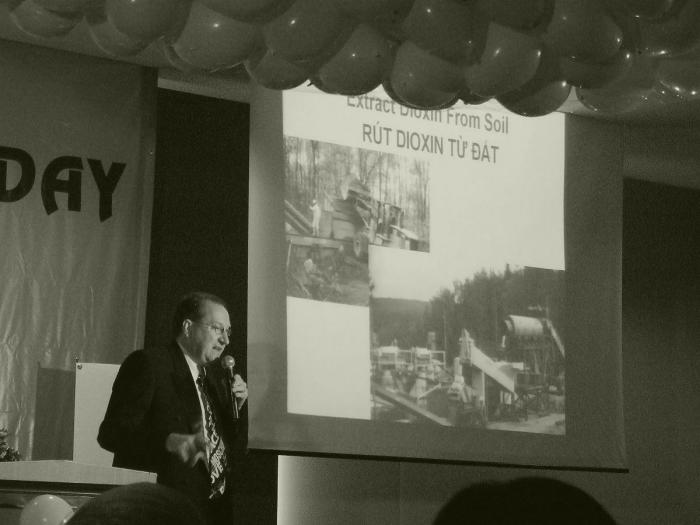 Charity dinner was held at Palace Hotel at Ho Chi Minh city.

Surprisingly, there is so called hot spot that has very high contaminated area by dioxin,
near Ho Chi Minh city-Bien Hoa.

The host was also stressing NOT to eat ducks. Ducks around Bien Hoa area contain very high dioxin.




---


Food as a Source of Dioxin Exposure in the Residents of Bien Hoa City, Vietnam
Our Stolen Future: High dioxin levels in Vietnamese food
This graph is a part of the above report,
As the graph shows, duck are highly contaminated







I was quite shocked by the fact Bien Hoa is know as dioxin Hot Spot.

The reason was there is a US Air field outside of Bien Hoa city.
Near this Bien Hoa air field, there was major storage area of these chemical.
There was major Agent Orange spill in 1970 and more than 7500 gallons of agent orange was spilled to the underground.
So this is why Bien Hoa has very high dioxin contamination.


After the charity, I learned from the Internet that major contamination by Agent orange in Vietnam caused by two cases. One is sprayed by Airplane and the other one caused by spill from storage facility.
I knew dioxin contamination was caused by air spraying, but I did not know it caused by spilling from the storage.
AGENT ORANGE/DIOXIN HOT SPOTS

The host, sorry I did not ask his name, additionally said following.



The best way to avoid dioxin is NOT to eat contaminated foods, such as ducks and flogs.

Duck eggs will also be contaminated.

Some of the ducks consumed in Ho Chi Minh city come from Bien Hoa area.

Vegetable is OK.

Education is very important key to avoid dioxin damage.

Despite this serious issue, Vietnamese government has not taken major action to prevent further contamination. There is no safety barriers around contaminated lakes and rivers. Even nowadays, kids play and swim these places.


I will not eat ducks here in Ho Chi Minh city from now on.


There are many foreign companies located Bien Hoa area.
They may be eating locally grown foods.
I hope they realize this Bien Hoa dioxin damage for them and Vietnamese people.

Agent of suffering by Guardian, UK
関連記事

International Agent Orange Day 2008 Charity Dinner (2008/08/12)